El Paso Center for Diabetes is partnering with The Outlet Shoppes at El Paso to unveil a mural that promotes and brings awareness to the community about diabetes.
The unveiling of the mural will take place on March 28th, 2023, at the home of the mural; The Outlet Shoppes of El Paso.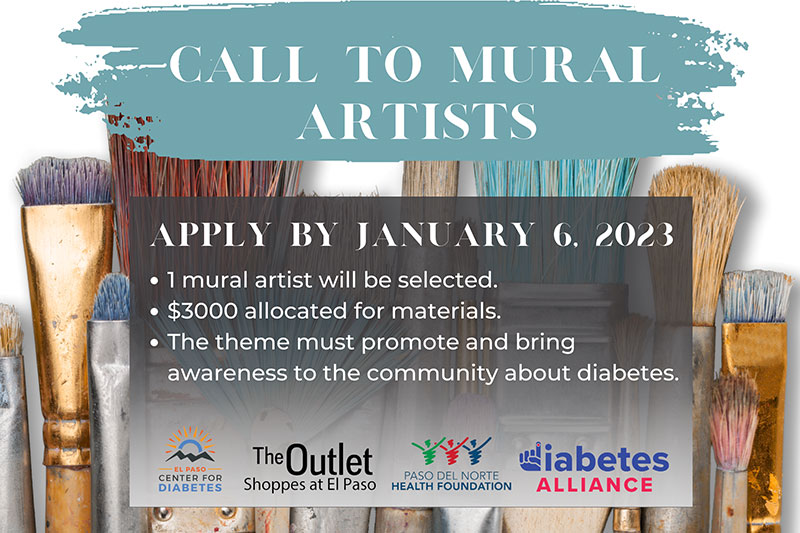 Design Emphasis
Submitted work will be considered in any style and medium. However, work does have to be thematic to diabetes.
Design elements of blue circles and inclusion of all age groups are welcome.
Applicants are encouraged to represent a culturally diverse population in theme and content.
CONSIDERATION CRITERIA 
To be considered, artist(s) must meet the following criteria listed below:
The artist(s) has completed other public commissions on a similar scale
Design of work and proposed title
A letter of interest with contact information including email address
A letter of interest should accompany submissions. The letter should show how artists work relates to the project. If the artist(s) has work of similar nature on public display elsewhere, such locations should be identified as well.
Submissions must be received via email or delivered by hand at 3641 Mattox St. no later than January 6th, 2023.
Incomplete submissions will not be considered.
 Artists can reach out to the Fund Development and Marketing Coordinator Angela Grijalva at agrijalva@epdiabetes.org or (915) 532-6280.
This website is for educational purposes only and is not to replace consultations and visits with a primary care physician. For any additional questions, call 915-532-6280. Website crafted by Novatech.